Brian Jacks - Mindset Of A Champion
Mar 03, 2023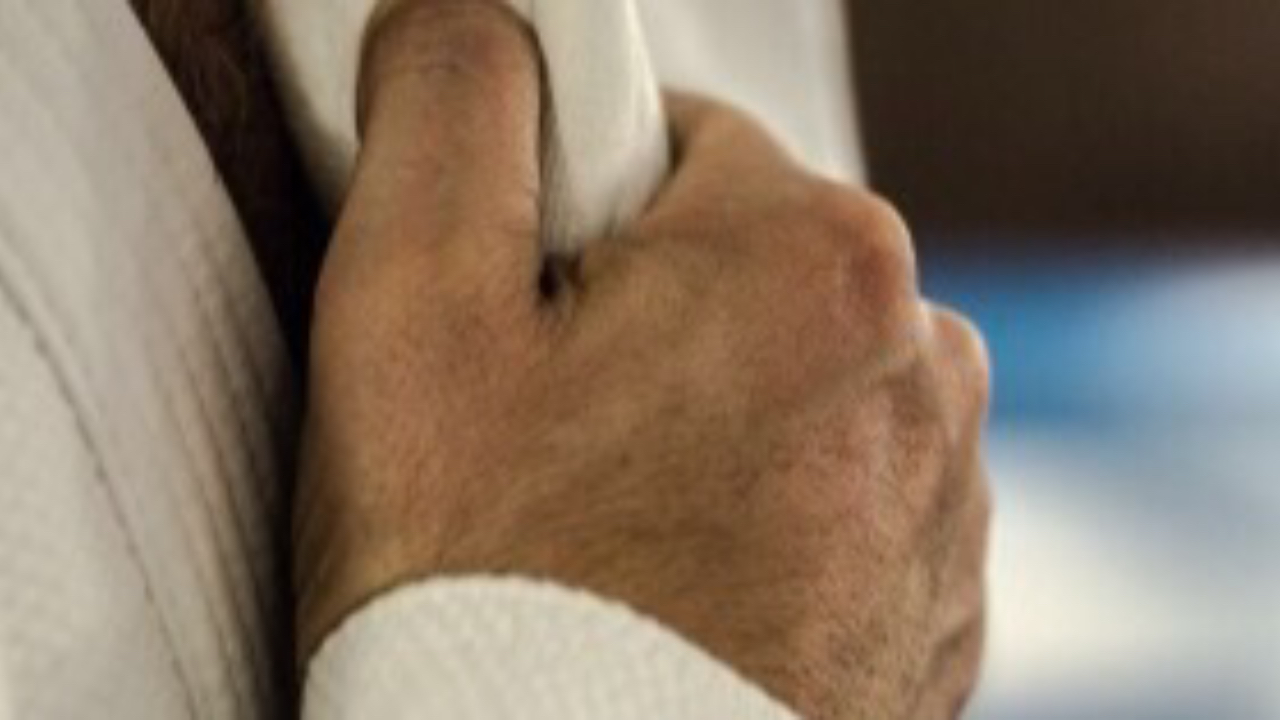 This interview with my previous Instructor Brian Jacks, took place about 8 years ago when Brian was 69 years old. It is an insight into the mindset of a champion, a Judo master, a phenomenal example of immense determination and dedication.
When I hear the saying "They don't make them like that any more." I often think of Brian. His story is an example to anyone who think they are serious about what they do and what it really takes to become an elite player in anything.
Simon:
Today I'm interviewing Brian Jacks, judo legend, Olympic medallist and the original TV "Superstars" champion and martial artist. I've known Brian for a long time so it's a great pleasure to interview him.
We've taken some time to get this together, haven't we Brian?
Brian:
We certainly have Simon, yes.
Simon:
We certainly have. Okay Brian, as a brief overview, can you list your achievements for us in judo?
Brian:
In judo I was six-time European Champion. We won the European Team Championships in Great Britain. I won a medal in the Olympic games, a medal in the World Championships. I was three-times Junior European Champion. Numerous times I won the British Championships so many other achievements I could mention.
Simon:
Quite a lot there. What age did you start and why judo as opposed to anything else?
Brian:
I started when I was about 9 years old. The reason I started was because of my father. He was a taxi driver in London. He wanted to get fit. He wanted to lose weight and he wanted to learn how to protect himself so he took up judo. He never told anyone in the family. He did it in his spare time while he was a cab driving. Then, one day, he came home and said, "I'm competing in a judo competition, the London Taxi Drivers versus The Metropolitan Police at the Chelsea Town Hall." He took the family to watch.
My dad was only 5 foot 8. He was partnered with a policeman who was 6 foot 2. They went about it and within 4 or 5 seconds he threw him on his back. That got me interested in judo.
Simon:
I bet it did, especially when you see your dad do that.
Brian:
It was fantastic, a wonderful moment.
Simon:
I bet it was. Did you go to Japan at 15?
Brian:
Yeah. My father realized, after I started judo at 9. I won the Goldberg Vass Trophy which is a junior competition. He arranged with the president of the judo club at that time to send me to Japan. At the age of 15 and one day old, I arrived in Tokyo and studied Judo for two years. My mother then took up a job in British Airways, BOAC, and she worked there for two years. Then they came over to see me, having travelled on a discount ticket. I think they got it for 10 percent. I'd already been there nearly two years when they came.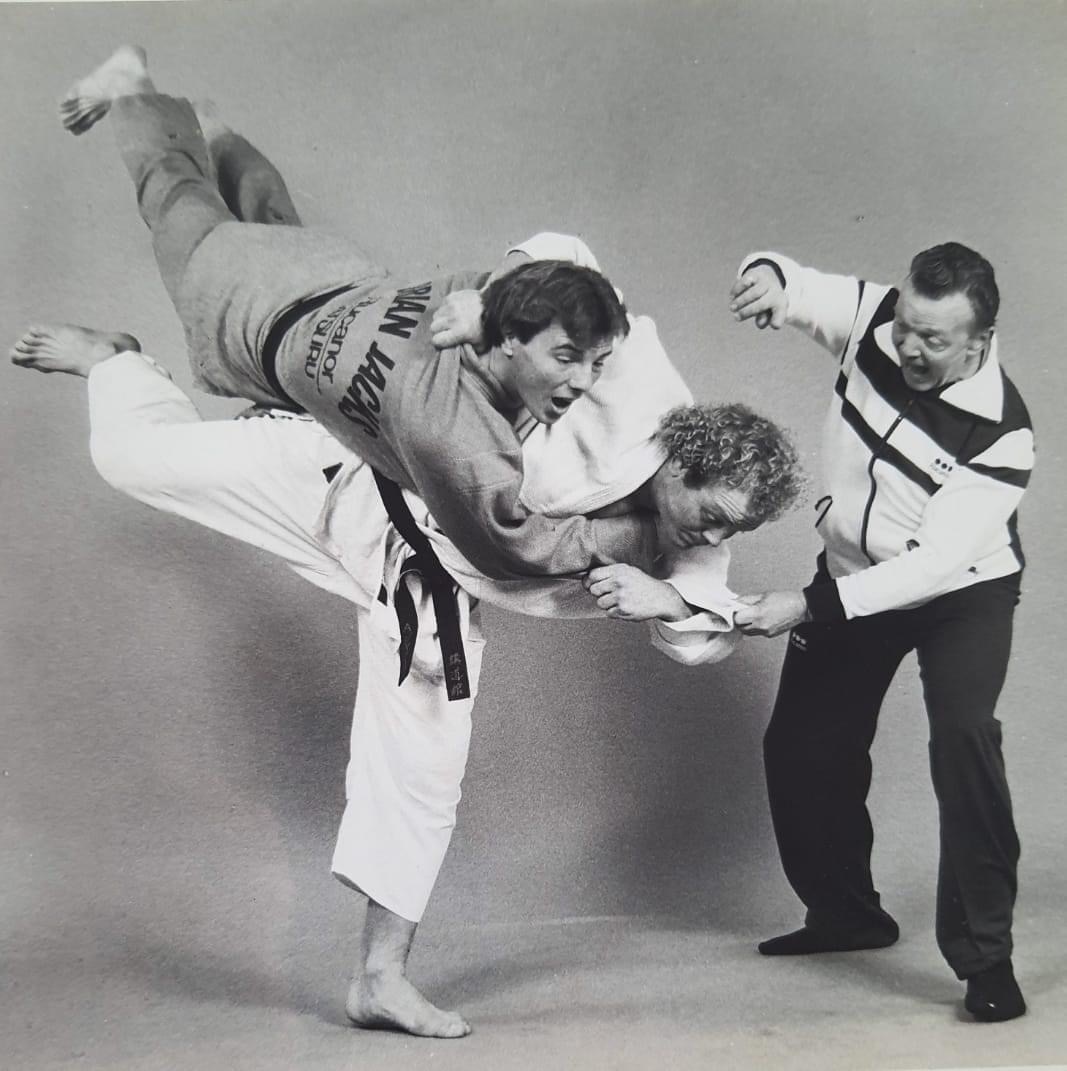 Brian throwing his training partner under the instruction of his Father Albert.
Simon:
Wow. What was the training like over there?
Brian:
The training was very difficult obviously because, being 15, you're not physically strong enough. The technique of the Japanese at that particular time was beyond anything at that time, nobody, outside Japan, had won a gold medal. The first person was Anton Geesink in 1964 at the Olympic Games. He was the first person outside of a Japanese person, to really win a gold medal of any kind.
Simon:
How did that work? Obviously you were still a school boy then. What was the curriculum like in Japan? How much judo practice did you do?
Brian:
I left school at the age of fifteen. Then I went to a school in Tokyo to learn Japanese and went to the Kodokan Judo Hall to learn judo. Then I went to Nichidai University to learn judo. I gave up the British side of education and just learned the Japanese methods.
Simon:
I see. You nearly quit when you were young? Your dad stepped in with other ideas.
Brian:
Yeah. I was a keen sportsman at school. I was good at rugby and cricket. I was very good on the trampoline. It was a tossup between trampoline, cricket or rugby or judo. Judo became the thing because not many people did it at that particular time.
I'm actually 70 years old this year. I was fifteen years and one day old when I arrived in Japan so that's quite some time ago isn't it?
Simon:
That is a long time ago, yeah.
Brian:
55 years ago.
Simon:
I bet the memory is still strong though. What was the typical day like Brian? What was a competitive day like for you in judo when you were really training for your top tournaments?
Brian:
In Japan it was two hours training in morning, two hours in the evening. When I returned to England, I did six hours a day. I did two hours in the morning, two hours in the afternoon and two hours in the evening. I never had any job or any profession.
Back in 1970, I tried to get into college which I did. I went to Avery Hill College in Eltham in Great Britain. I learned to become a teacher, a school teacher. I did physical education and, a second subject, I did sociology. That gave me a footing.
Funny enough, my head of department at that particular time was Joe Jagger, Mick Jagger's father. He was the head of department in the college I went to.
Only just a year ago I went to Macau to see Mick Jagger in concert. I went down in the changing room with all the boys there because I knew his father.
Simon:
Great. Excellent. Did you get a special pass? I hope so.
Brian:
Yeah. I got a special pass. I went everywhere, all over the place.
Simon:
Quite right. Brian I love the story about when you damaged your hand in a bout and the ref came and you told the ref to bandage it. Can you relay that story again?
Brian:
What happened was, in the second contest of about nine in the same day, I broke the scaphoid bone in my right hand. The doctor suggested that I didn't carry on. What I did, I got two small pieces of wood, which is actually not allowed, and put them from my knuckles down across my wrist and then inside the palm of my hand and strapped them so it kept my wrist stiff so I couldn't bend it. I carried on fighting and won the Europeans.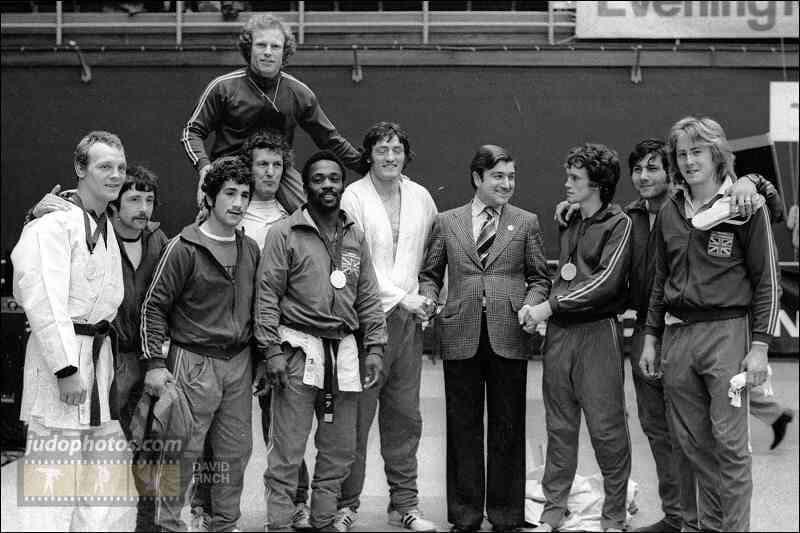 Brian far left with team members.
Simon:
Fantastic.
Brian:
I put it on the wrong hand, you know that do you?
Simon:
That's right I remember you saying.
Brian:
I actually put the bandage on the wrong hand so that the opponent attacked the good hand. He was ripping my bad hand to bits which was actually my good hand but that's all gamesmanship you know.
Simon:
Absolutely. It's that mindset isn't it? Most people, when they get injured, they're just so concerned with the injury that everything else goes out of their mind.
Brian:
Exactly. Yeah.
Simon:
They need to quit right then. That mindset of being injured but I'm going to carry on is that something you train or are you born with? What do you think?
Brian:
I really believe that, when you've trained hard and you're built up for a competition, the adrenalin takes over. You get a big adrenalin burst. You forget about the injury. After the competition it starts swelling up again and you start getting the pain again. Adrenalin builds up so much in a competition that you just forget about it.
I've broken my leg in a competition as well and all sorts of things. Well, not broken, I fractured the fibula. You just carry on. I've had 11 cartilage operations, several back problems. I've been in the hospital about three months or so with bad backs over the years. You just get through it because you're keen, you're motivated and just want to get on so you just put it out of your mind.
Simon:
You also need the physical condition to support that adrenalin burst. You've got to have the physicality as well that's going to support the whole engine.
Brian:
Now, mind you, I'm getting on in years. You start to think, "All these injuries, I wish I hadn't of done this. I wish I hadn't a done that." The injuries still remain with your throughout your life. I'm playing golf but finding it very difficult because my knees are so weak. My shoulders are bad. My ribs are bad. My hands are bad. That's the thing you have to pay for if you're going to be a top sportsman.
Simon:
Sure. I understand. Did you beat a European champion at 16 years old? I remember your dad telling me a story. I don't know if I've got that quite right.
Brian:
You've got it right. I was 16 and a half when I fought in East Berlin. I fought in the Junior European Championships and won that on the first day of the competition for Great Britain. Then the team managers says to me, "Would you like to go in for the seniors?" I said yes. I had a go at the seniors and only got the silver medal in the seniors at sixteen and a half years old.
Simon:
Fantastic. That must have been one of the highlights, surely.
Brian:
I only just lost in the final on a decision. It was quite an achievement at that age, looking back on it now, but, at the time, you don't think about it.
Simon:
What would you say your toughest matches were and the ones that stand out for you?
Brian:
That one was tough but there's been several since. I fought a guy 7 foot ten inches tall. Addalar from Holland. I was only 80 kilo and he was about 170 kilo. I think he was 7 foot 7 or 7 foot 10. Addalar his name was, from Holland. He just dragged me around like a rag doll. I managed to knock him on the floor but that was about it. He was massive.
That was because the team manager said to me, "Well you've done so well in middle weights, have a go in the open weight." I wanted to try to win a medal in the open weight in the European Championship but it didn't work.
Simon:
Right. If he was over 7 foot, what where you? 5 foot eight?
Brian:
Five eight yeah.
Simon:
Quite a difference. Did you do much open weight fighting then?
Brian:
I only fought about 5 times in the open weight. Just for the fun of it and the experience fighting heavier people. Judo is supposed to be nothing about size at all. A smaller person is supposed to be able to get under the centre of gravity of a taller person. It worked a few times. I won the British Championships beating Keith Remfry. Keith also won a silver medal in the Olympics in the heavy weight in the semi-finals. He was 6 foot four and weighed about 140 kilos. Sometimes it works sometimes it doesn't, its very difficult.
Simon:
It's a massive weight difference. I remember us talking and you were responsible for some rule changes weren't you? Including the old garlic breath trick?
Brian:
I think the biggest rule change, everybody had to compete with a black belt on. When I got my sixth degree, my sixth dan black belt, that changes the belt colour to red and white. I was the first person to compete in Great Britain with a read and white belt on. That was a bit of a change for the rules. They didn't know what to do really. When you're a red and white belt you become a professor in the sport. I competed with it on which was unheard of then.
Playing with people's minds is the greatest thing in Judo. Before the British Open Championships, I made the person wait on the mat for 9 minutes. They give you three, three minute calls. If you don't turn up, they disqualify you. Just before the ninth minute, I turned up on the mat. I walked over and dusted the top of the rostrum before I went onto the mat. The person that was on the mat, I think he'd given up. He thought, "Well if he's that confident about getting on the rostrum then I've got no chance." I threw him in four seconds, five seconds. I have that picture still as well.
Simon:
Fantastic. I think, on the whole Brian, people underestimate how tough judo is. They watch it but unless you feel it you haven't really got any idea how tough it is. It requires immense fitness. It's really tough on the body. Do you think physical changes like judo directly influence mental toughness? I remember you saying you applied certain holds on guys during bouts and you'd break your own ribs in the process of the submission. It's a tough sport.
Brian:
I've done that two or three times, holding someone down and broken my own ribs. It is a very tough sport. It's a very physical sport. It's a very open skill. The skill is not closed. You're trying to do a technique and, in trying to do the technique, the person is trying to stop you. The skill is completely open. There's no direct line to it. As soon as you move, the other person moves a different way and you have to change everything. It's very brutal. It's a very tough tough combat sport. There's no doubt about it.
Simon:
It's just something that a lot of people have to feel. I think people look at it and think, "It doesn't look too bad." Then you feel it. I know a lot of guys who came from kickboxing and boxing. They had a go and they said to me, "I can't believe how horrendously tough it is." Rolling around with someone your own weight or bigger and trying to control them. I think it's a shock when you first try.
Brian:
That's correct. It's very hard. The training's hard. The competition is even harder. You get used to it. It's something you get used to and enjoy. Well I enjoyed it in any case. A bit masochistic I suppose.
Simon:
Many people are not aware you studied other martial arts including boxing. Can you tell us the other arts you studied and why you delved into the other styles.
Brian:
I studied jujitsu and karate but I never liked boxing because I didn't like getting hit to be honest.
Simon:
You got your nose broken didn't you in the ring?
Brian:
Yeah. I got my nose broken boxing twice. That was it. I'd had enough of that.
Simon:
You also did some hold down competitions. I remember you telling me about you used to have a competition where you get people to hold you down and you had to get up in a certain amount of time.
Brian:
I used to do demonstrations of lineups. One against ten and one against 20. Also, ground get ups where you let them hold you down and you've got to get up. You have to get up within thirty seconds. Sometimes, if you've got someone twice your weight on top of you, it's quite difficult. That was just for training purposes really.
Simon:
Tell us how being on TV Superstars came about Brian.
Brian: I was teaching when I finished my own university studies and had a phone call from the BBC and they said would you like to go on Superstars. I said yes. This was on a Monday. They said, "You've got to be in there for Wednesday." I said, "Oh no. I need six weeks." Then they phoned me up a couple of days later and said, "Will you join the next series?" I said, "Yeah. Let's do it."
I went to see the head of the department in the college. He said, "Look. You told us you'd finished judo and you didn't want any more time off. Now you're telling us you want time off," so I just chucked the job in and worked for the Superstars. The best thing I ever did.
Simon:
It was amazing. You were so successful in that. That was tough as well wasn't it? The modern fitness industry often talks of cross-training and the ability to be fit within different levels within strength, endurance, power, et cetera. But you had to do that with Superstars, because all the events were different and you trained with experts.
Brian:
There were 10 events.
Simon:
You was going different places to learn shooting and Olympic weightlifting. You was going all over.
Brian:
Shooting, cycling, swimming, weightlifting, the gym tests, basketball, crossbow, all sorts of things.
I was a PE teacher in any case so I was interested in all the sports. I had the basic idea of the mechanics of the other sports because of my PE training. I just made sure that everything I did in the Superstars was exactly to how you should do it. Like the bikes, for instance, if you're racing a bike you need to know the distance between the handle bars and your foot on the pedal and the foot on the pedal to your seat. You need to know the right distances in order to get the maximum power. In the gym tests I needed to know the exact position of the body to be able to move my legs backwards and forwards at the greatest technical ability for it. For the arm bits, you need to lean forward have all your weight forward and push with your legs and your arms at the same time.
All those things came into account when you were doing that kind of serious work. It was quite serious work because there was quite big money in it at that particular time.
Simon:
How do you structure something like that within a whole week, all of those different events? How did you train for time on each one?
Brian:
At 6 o'clock in the morning we were at Crystal Palace doing the canoeing. We'd leave there at 7 and go off to the gym and do the swimming. Then we'd go and have breakfast. Then we'd come back to the gym and practice basketball shooting or rifle shooting or crossbow or long bow or whatever that was. Then we'd have dinner and do a couple of hours in the afternoon of weightlifting. Just do different things all day long.
I took six people with me. I used to race them all one at a time. I'd cycle once around the track and then cycle a fresh person around the track and then another person around the track and so on. I always had people to train with.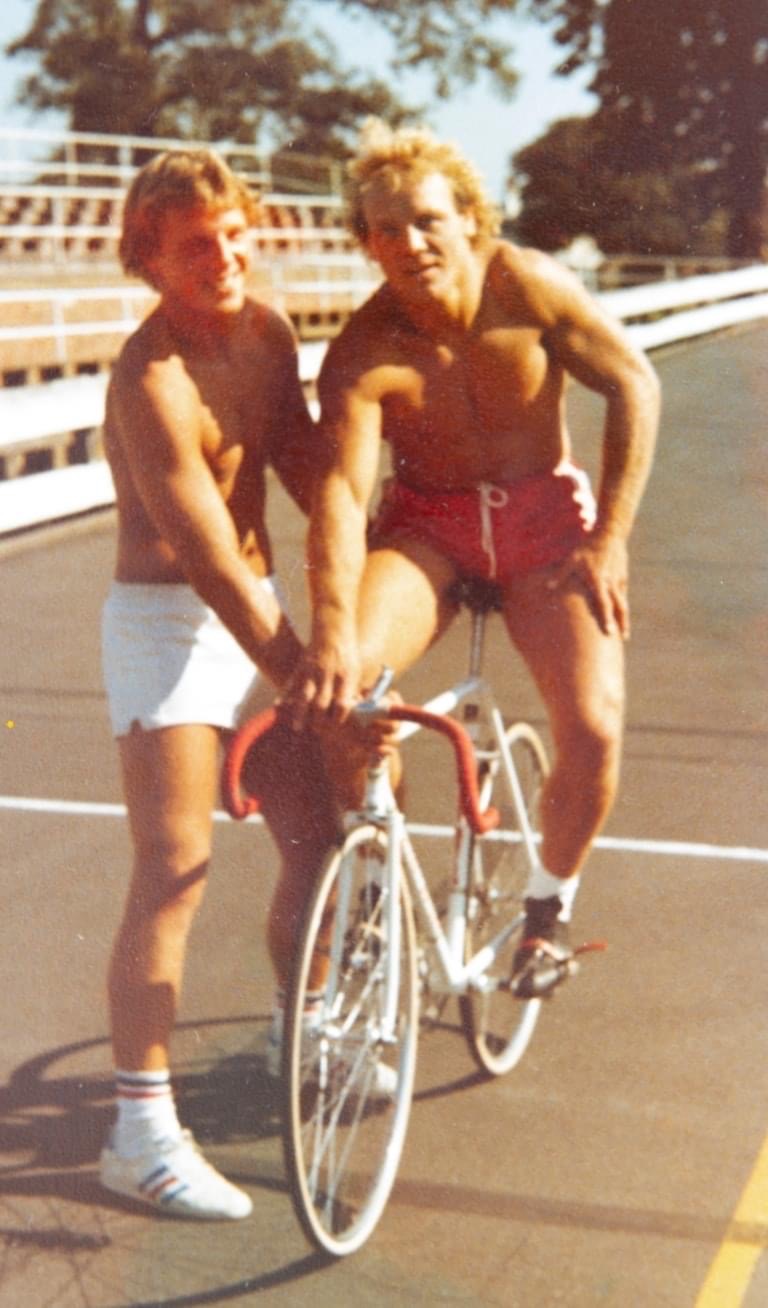 On the bike and in serious training.

Simon:
I think people should take note of that reading. Whoever thinks they train hard should take note of how the days work like that.
Brian:
You have to be dedicated believe me.
Simon:
How many series did you do and how well did you get on?
Brian:
I won the European Championships three times. I won the British Championships three times and the British Heat once. Then I went into the team superstars. We did that as well. Myself and Nigel Mansell won the Team Superstars.
Simon:
Nigel Mansell?
Brian:
Yeah. Nigel Mansell and myself won the Team Superstars. Two people to a team.
Simon:
Have you got any experiences or stories that stand out superstars? I know you didn't get on with everybody there that competed. Did you?
Brian:
There's a few people I didn't get on with. People who didn't want to speak to other people that were watching and stuff like that. One year I took fifty six children from my judo club to watch at Cwmbran when they did the heats. A couple of people just refused to give them autographs. I suppose, if you're competing a lot, you don't want to give an autograph out. You want to get on with thinking about how to win.
I competed against Daley Thompson a couple of times. I'd already won the competition on points but we got going in the last heat. It's not shown on television as it's done at the time. I got drawn in the last heat swimming with him. We were both sitting on the podium ready to dive in. We were waiting for the starter to say "begin." I said to him, "I think I'll swim back stroke. It doesn't matter anymore, I've won it." He waited about a minute and a half, two minutes and said, "I bet you don't swim backstroke." Then I waited about a minute and a half and I said, "Daley I bet you I don't either." I just hacked it through the water.
Simon:
Excellent. It was a great series wasn't it, Superstars. You got invited back many years later for the new series but it changed quite a bit. I don't know if I'm wrong here but it seemed easier?
Brian:
I was 60 years old then. I said to my dad "If they want me to go along there, I'd better do a bit of training," because I hadn't done any training in a long time. I trained every day for about four weeks before the actual event. I went and did arm dips everyday to get back into a little bit of shape at 60 years old. When I got to the event in Spain, they asked me to do an arm dip demonstration. I did 60 in 30 seconds, more than anybody else there.
Simon:
Really, 60 at 60 years of age? Nice.
Brian:
I got of the bars and said, "I'm 60. I've done 60. That's enough." I couldn't do anymore to be honest. I was knackered.
Simon:
Just go on a bit about the mindset Brian. Did you ever feel fear or nervousness before your bouts or events? If you did, how did you manage it?
Brian:
I was very lucky. I didn't get nervous before an event. I got the nerves about three weeks before. Every three weeks before I would get a boil somewhere on my body, on my leg, on my arm or somewhere but I never got nervous on the day. Other people, they would walk to the side of the mat and be sick all over the mat before they'd even gone on. People suffered in all different ways.
Simon:
I was listening to a jockey that was saying that recently. It just became natural for him to be sick before every single race and he just got used to it. Could you tell when others were scared or nervous? Did this effect your confidence against them?
Brian:
Yeah. I knew that everyone was, not scared, but nervous. Everyone was nervous. Some of the things that you do before the actual fight actually puts them off. Like polishing the top of the rostrum for instance and just coming out and just ignoring them and saying hello to the British team manager. In one competition, the British team manager had a new Olympic vest on. I went over to him while my opponent was standing on the mat waiting. I said to him, "Why haven't I got one of these vests? I'm the captain of the team." He said, "Oh. I'll get you the first one that comes out." I said, "I don't want the first one. I want the one you've got on now." He said, "If you beat this guy you can have it." I said, "No. If I beat him within fifteen, 20 seconds, you give me yours now." I went on the mat and threw him in about 15 seconds, went over, picked the shirt up. Those are the type of things you do when you know people are nervous like I was but you've got to put it out of your mind. You don't let them know.
Simon:
Sure. You were once approached to advertise a product. Was it oranges Brian? You was asked to advertise for them.
Brian:
Yeah. I never did that. I never did actually do that. As you know, I used to suck oranges in the competition.
Simon:
Most personalities cash in once their names are well known regardless of whether they use the products or not. Why did you not do the same?
Brian:
If I don't believe it in then I won't promote it. It's not like I didn't believe in oranges. I did but unfortunately I wasn't asked by an orange company. I was asked by other different companies to do things but never did them because I didn't like the product or whatever it was. If you don't like a product, you don't want to advertise it do you really?
Simon:
I think plenty do. When their name is hot they cash in because they know that a sports persons name isn't around for very long.
Brian:
It's not all about the money is it? Most people think it's all about the money but it's not really I don't think. Most people do adverts for the money.
Simon:
What's your opinion that separates the high-end performer from the weekend warrior in terms of mindset?
Brian:
Personally I think, if you make up your mind to do something, you'll do it. If you can't make up your mind or you've got reservations about it in your own brain, it will never happen. I always thought I could do it. Whether I did or didn't do it, in each competition, I always thought I could. I always wanted to do it and always trained with that in my mind.
I remember running up a hill in Lullingstone with my dad standing at the top of the hill. I was absolutely knackered. He just shouted out, "It's not me who's making you run up this hill. It's the person you've got to fight next week. He's making you. Take it out on him. Don't take it out on me." That puts it in your mind that, everyone you fight, they're the ones that have made you work hard, train hard.
Simon:
You know exactly why you're training hard.
Brian:
Exactly yeah.
Brian:
You put your mind to something and you do it or you don't do it. You try something and it works or it doesn't work. It's nothing to do with anything else. I'm convinced. In my life, when I competed, nothing else mattered. Nothing. All I wanted to do was win Judo competitions. That's all I wanted to do. Then that came to an end and I went into the Superstars and all I wanted to do was win the Superstars. That was it.
Brian:
I'm mad on golf now. I'd like to be a great golfer but I'm just too old.
Simon:
It's the climate where you are as well. You can golf as much as you like over there can't you?
Brian:
I'm in China a lot. I'm in Taiwan a lot. I'm in Hong Kong, Macau, all over the place. It's quite good fun.
Simon:
It sounds like quite a life. I don't know if you've regretted this but I remember you gave all your medals away to others. Did they not have any sentimental value to you?
Brian:
I've given three quarters of them away. The most important ones my son's got. Most of the others I've given away to Judo clubs. They can appreciate and kids can aspire to do that kind of thing. My Olympic Bronze metal was at a Judo club for about 20 years. It inspired other people and children to do well.
Simon:
Training in your prime Brian was a tough discipline. How did you find motivation on the days when you just didn't feel like it or felt unmotivated. There's this thing going around at the moment. People are connecting motivation to action. Only if you're feeling positive and happy. Of course it's completely unrealistic. You have to train regardless of how you feel. Did you get days like that? Were you completely unmotivated and didn't want to go?
Brian:
You've got to remember that, when I was training, I was only 15, 16, 17 when I began. I didn't want to let my father down so I never actually got to that stage. I always wanted to train. I've always wanted to do it. I never got into a stage were I didn't want to train at all.
Simon:
You once told me that very few people can tap into that highly-adrenalized mindset during a match where you can raise another gear. I remember us chatting about that. Even among martial arts masters, you said, there's very few people that can do it. Is that something through training or are you born with it?
Brian:
I think it's in your own brain. If you want to do something so badly and you're really desperate to do it, then it builds up itself. It's a self thing. I don't know what it is. I've always had it because I've always wanted to do well.
I remember one time I was being held down …. Someone was on top of me and I was on my stomach. They started putting their knuckles in between my neck and irritating me. I just got this adrenalin rush and dragged him off like a rag doll. It's one of those things that happens.
Simon:
That's the one. I remember you saying.
Simon:
Brian, we live in a society where everyone wants instant gratification and results. What are your thoughts on this? Everyone wants the instant fix.
No one is willing to put in the effort for the long-term goal like you've done with Judo. They get inspired but they want to get there very quickly. When they see how hard it is they tend to back off.
Brian:
I think money is more important nowadays. People are more interested in making money than they are doing something for themselves. I did Superstars for myself not for anybody else. I wouldn't go into it unless I thought I was going to do well. If I didn't do well then I would accept that. It's for your own personal self isn't it. With me, it's just me. I'm just like that. I want to do well or I don't want to do it.
Simon:
If you were training others today, big ambitions, what is the main personal piece of wisdom that you'd share with them if they wanted to do what you've done?
Brian:
I've trained lots of people in the past. I can't, honestly I tell you, I can't waste my time unless people really want to do it. If they're not bothered then I don't really care myself. You've got to want to do it otherwise there's no point in doing it at all. If you want to make a lot of money go ahead and make a lot of money. If you don't want to make a lot of money then obviously you're not going to. You've got to set yourself what to do in the first place otherwise you're never going to do it. If you don't believe you're going to do it you won't do it. Basically I think it's a self thing.
Simon:
You got some bad injuries Brian from Judo, as you said. Have you got any regrets? I suppose when you reflect on it sometimes you do and sometimes you don't.
Brian:
I do regret a lot because, when you get older, the injuries seem to play on you more. When I look back, I'm glad I did it but I wish I hadn't got injured. But what can you do? You can't do it again. When you're young you don't bother about it. It just happens and you get on with it and you just do it. You regret it in a way but you don't in another if you understand what I mean.
Simon:
Sure. You're now living in Thailand and you've got some well known faces staying in your complex.
Brian:
Pat Murray stays there. Jimmy White stays there. There's quite a few stars there that come in and out. We're very lucky. I'm not there all the time. I travel quite a lot around. I've been in Japan. I've been in Taiwan. I've been in China and so on so I'm not there all the time. It is nice to see everybody.
Brian:
It's been lovely talking to you Simon.
Simon:
And to you. Thank you so much for the interview.
Brian:
Nice to talk to you. Be good. Keep in touch. Cheers buddy.
Brians life story is covered in his autobiography:
'Mindset Of A Champion'
DISCOVER THE 7 COURAGES
Only one thing is stopping you from completely changing how you act, think and feel — and the results you get in every part of your life.
Get The 7 Courages
Stay connected with news and updates!
Every Friday I'll email you inspirational ideas on how to live with more meaning and purpose, and link to other useful content. Sign up to join...
We hate SPAM. We will never sell your information, for any reason.